---
---
---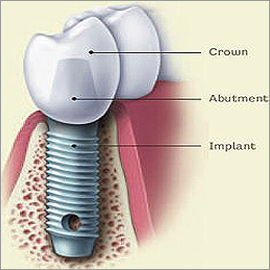 ---
Dental Implants
Deciding how to replace a missing tooth, or several missing teeth requires careful thought and consideration. For some patients, bridges or dentures may be the best solution. For most patients, dental implants are the most successful, long-lasting and cost effective solution. Dental implant replaces the missing tooth root, allowing for the construction of a crown on the implant that looks, feels and functions like a natural tooth.
Dental implants have long been regarded as the "next best thing" to a natural tooth. Dental implants are constructed of medical grade titanium which is coated with bio-compatible titanium oxide. The implant is placed into the jaw bone in the area of the missing tooth. The dental implant acts as a replacement tooth root, preserving the surrounding jaw bone, preventing atrophy (shrinking) of the jaw bone, and creating an extremely strong and durable foundation for a crown. Dental implants function and feel like your natural teeth. Research indicates that dental implants are 97% successful.
Once you decide that replacing your missing teeth with dental implants is the solution for you, it is important to understand the process which you will experience. You may choose to replace just one missing tooth or may elect to replace all of your teeth with dental implants. The process is similar in any situation.
Upon your initial evaluation, your surgeon will evaluate the bone quality in the edentulous area. If the bone quality or quantity is poor, you may require a bone replacement procedure called a "bone graft". Once the bone graft has healed (approximately 12-16 weeks), the dental implant(s) will be placed. The implant's healing process, during which the jaw bone adheres to the surface of the implant, takes approximately 8-12 weeks. This process is called "osseointegration". Once osseointegration is complete, an abutment, or post, is permanently attached to the implant and a crown can be built upon it. Dental implants are also often used to create a strong framework for retention of a complete upper or lower dentures as well.
Address
975 West Exchange Parkway Suite A-150 Allen, TX 75013
Phone: 214-383-3883
E-mail frontdesk@northdallasoralsurgery.com
Opening hours
Monday – Thursday: 9am–5pm
Friday: 9am–1pm
Saturday & Sunday: Closed