---
---
---
---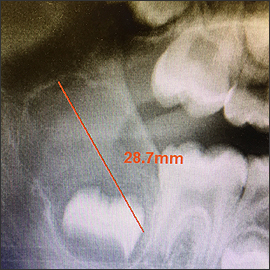 Oral Pathology
Sometimes patients experience abnormal tissue growths, tumors or cysts in mouth or jaw. If you have been referred to an oral surgeon for evaluation of such a growth, do not panic. There are a number of lesions, cysts and growths that can occur in the mouth and jaw. Most are benign. Your surgeon will usually surgically remove a growth and send it to the lab for microscopic evaluation and diagnosis.
Growths in the soft tissues of the mouth can be caused by salivary gland or duct dysfunction, trauma, fibrous tissue formation as well as pre-cancerous and malignant growths. Early detection and treatment of abnormal soft tissue growths or changes is the key to successful treatment. In fact, more than 80% of oral cancers that are detected early are curable. Cysts in the jaw bone which are left untreated can destroy the bone and teeth over time.
When you visit our office for a consultation, a portion of your routine examination will include a visual screening for oral masses or lesions. If any abnormality is detected, it will be promptly addressed.
Address
975 West Exchange Parkway Suite A-150 Allen, TX 75013
Phone: 214-383-3883
E-mail frontdesk@northdallasoralsurgery.com
Opening hours
Monday – Thursday: 9am–5pm
Friday: 9am–1pm
Saturday & Sunday: Closed